Positive Pay
---
Control. Timely. Efficient Fraud Protection.
The positive pay service is provided to our business customers to help you quickly identify potential fraudulent or other unauthorized checks to deter or reduce the loss of valuable business funds. All available through the convenient easy access of Business eBanking.
How Does This Work? - Checks presented for payment on your MJB business account are compared to a database of legitimately issued checks from your account register data. If a paid check matches an item in the issue database on both the check serial number and the dollar amount that item is considered properly payable and no further action is necessary.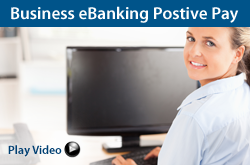 However, if a paid check does not match on one or both of those fields of check issue information you provided, we consider the item an exception and alert you immediately. Early each morning we send an email alert to all positive pay customers that have exceptions. Now the control is in your hands. Simply log into the Business eBanking system and review the exceptions to decide whether you want the item to be paid or to be returned for non-payment.
The power is in your hands. By reviewing the image of a paid check you can determine if the item is properly payable, or if the item is fraudulently signed, altered or in any other way not properly payable. By deciding to return the item, we will credit your account back immediately – reducing the possibility of loss of funds.
The Critical Window. – The critical window is 24 hours from the time a check is paid on your account. If the item can be identified and returned within that timeframe we can put the funds back into your account the same day.
Without positive pay your company may not discover an altered, duplicate or fraudulent check until you reconcile your account. If those items are not reported to us within 30 days of receipt of your bank statement, and we are unable to recover the funds on your behalf from the other bank, you could lose those funds. Collection efforts after the initial 24-hour window can be slow, costly, and frustrating – and may not be successful.
Timely information and the control to easily manage your payables can reduce the exposure and liability of check fraud losses - Morrill & Janes Bank Positive Pay Service!